We appreciate Tripod's commitment to promote free websites and we hope to be a member of Tripod for many years.
This site is designed to help match horses and people.
The Standardbred is one of the most populous breeds in North America, but, outside harness racing, is barely known. He is the "Rodney Dangerfield" of the horse world - he "gets no respect". The reality is he is an extremely versatile horse.
He can compete in any sport - dressage,endurance, combined driving and 3-day eventing, jumping or reining - and excels as a working horse in movies, police work, pulling a plow or cannon, and rounding up cattle. The cowboys of the 19th century loved them and so will you.
Check out our buttons and links and we welcome you to email us for further information. BOOKMARK this location, and come back to visit often. We'll continue to update the site
This site will not tell you everything you need to know about Standardbreds, but together with our links and agencies, will get you started on the road to owning (or being owned by) a Standardbred. You will not find pictures or descriptions of available horses here. To learn why -- and the financial realities of horse rescue -- read our disclaimer. Go through the Adoption Agencies page to find a horse.
This page will be updated shortly.
This site will also lead you into the world of horse abuse. Find out where the non-rescued horses go. You can read all about it in the Hall of Shame below. You can also read a well-thought-out article by the world-renowned veterinarian, Dr. Robert Miller. It was originally published in Cowboy Magazine, Fall 2006. To learn more about Dr. Miller, I encourage you to visit his website www.robertmiller.com.


This webpage is proudly sponsored and maintained by Standardbred Rescue of California, a not-for-profit Standardbred Rescue and Adoption organization.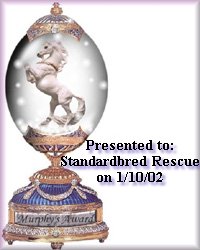 We won a Murphy Award! WOW!
From Janet Ford of Farmsites wrote: "This is a very difficult award to win. Your website displays a sincere love and dedication to reaching out to those horses in need. Because of this, we are proud to say you've earned the Murphy award. Please display your award with pride. Many thanks to you on behalf of those horses who's lives you have touched." THANKS, JANET!


Some comments from viewers:

.....They are setting the pace for responsible horse ownership.
.....They are working very hard to promote their breed as a riding horse after their racing career is over.
.....They are standing up for the humane treatment of horses.
.....Educate people about a breed of horse often forgotten by the masses of horse enthusiasts.
.....The Standardbred horse can be a wonderful partner, if [they] only knew about the breed.
.....Great place to gain valuable information about how to start the process of finding your own horse.
.....It provides an awesome resource...other STB owners for support!